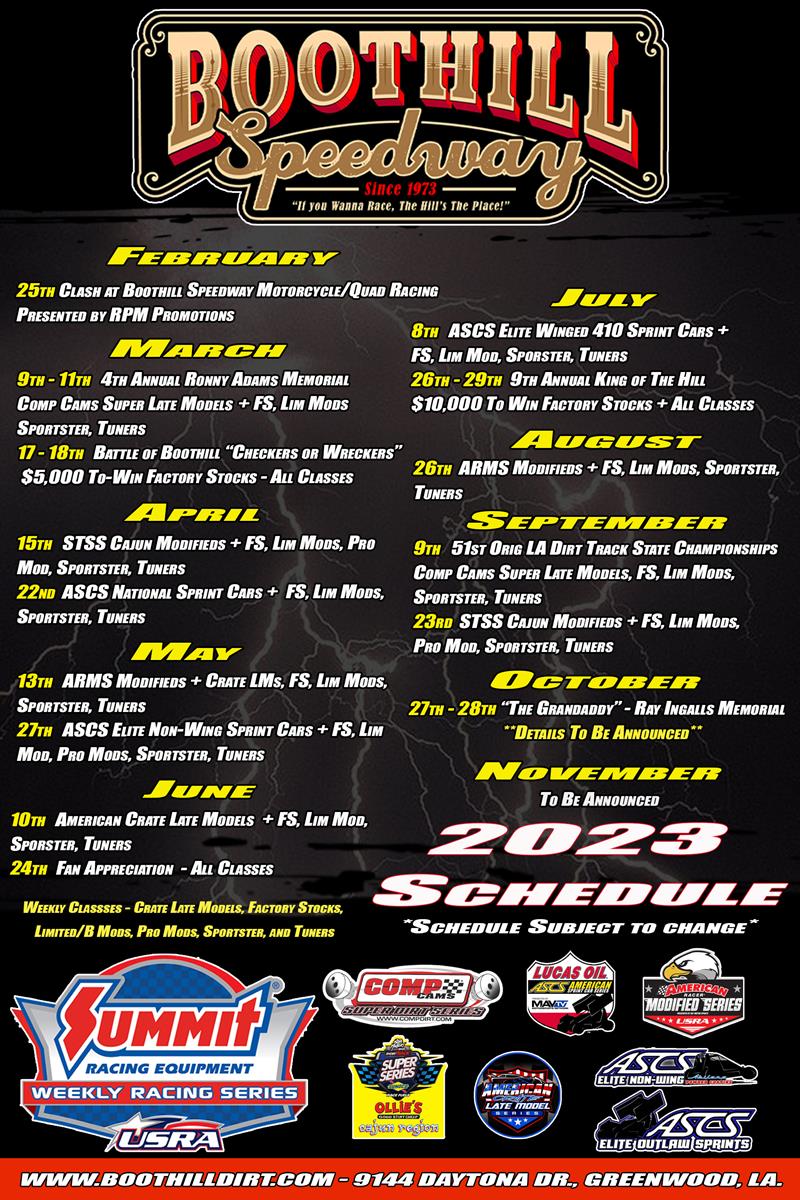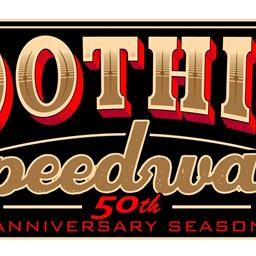 1/4/2023
Boothill Speedway
---
2023 Boothill Speedway Schedule Released
GREENWOOD, LA - The 2023 Boothill Speedway schedule for the speedway's 51st year of operation has been released. The schedule contains 14 race event weekends, with 22 nights of on track activity. The season will open on February 25th with motorcycle and quad racing, with race cars returning to the Greenwood, LA oval on March 9th – 11th for the 4th Annual Ronny Adams Memorial.
Several touring series will make appearances throughout the season with the COMP Cams Super Late Models, ASCS National Sprint Car Series, ASCS Elite Non-Wing Sprint Cars, and STSS Cajun Region Big Block Modifieds all returning to the speedway. In addition, the American Crate Late Model Series, ASCS Elite 410 Sprint Cars, and USRA American Racer Modified Series will all make their debuts at Boothill Speedway in 2023.
In addition to the Ronny Adams Memorial, the 9th Annual King of the Hill returns for 4 days in late July, the Battle of Boothill "Checkers or Wreckers" will feature a $5,000 To-Win main event for Factory Stocks, and the 51st Annual Original Louisiana Dirt Track State Championships return in September.
On October 27th and 28th Boothill Speedway is proud to host the inaugural event "The Grandaddy" a weekend to honor Ray Ingalls. Papa Ray is certainly no stranger to fans throughout our area. More details will be released on this event as everything is finalized.
As previously announced, Boothill Speedway will be sanctioning the Factory Stock, Limited Modifieds, and Tuners with USRA in 2023. Drivers are encouraged to register online on MyRacePass today. Drivers may call (515) 832-6000 to register by phone or submit a completed USRA License Application by email at office@usraracing.com or fax (515) 832-7958. You can download the application at usraracing.com/downloads. Licenses are $100 for Limited Mods and Factory Stocks, Tuners are $60.
The Crate Late Models (CRUSA rules), Pro Mods, and Sportsters return in 2023. The Crate Late Models and Pro Mods will be rotated on the schedule in 2023 with each division competing in at least 6 events.
2023 Racing Schedule
February
25th Clash at Boothill Speedway Motorcycle/Quad Racing - Presented by RPM Promotions
March
9th - 11th 4th Annual Ronny Adams Memorial Comp Cams Super Late Models + FS, Lim Mods, Sportster, Tuners
17 - 18th Battle of Boothill "Checkers or Wreckers" $5,000 To-Win Factory Stocks - All Classes
April
15th STSS Cajun Modifieds + FS, Lim Mods, Pro Mod, Sportster, Tuners
22nd ASCS National Sprint Cars + FS, Lim Mods, Sportster, Tuners
May
13th ARMS Modifieds + Crate LMs, FS, Lim Mods, Sportster, Tuners
27th ASCS Elite Non-Wing Sprint Cars + FS, Lim Mod, Pro Mods, Sportster, Tuners
June
10th American Crate Late Models + FS, Lim Mod, Sporster, Tuners
24th Fan Appreciation - All Classes
July
8th ASCS Elite Winged 410 Sprint Cars + FS, Lim Mod, Sporster, Tuners
26th - 29th 9th Annual King of The Hill $10,000 To Win Factory Stocks + All Classes
August
26th ARMS Modifieds + FS, Lim Mods, Sportster, Tuners
September
9th 51st Original LA Dirt Track State Championships Comp Cams Super Late Models, FS, Lim Mods, Sportster, Tuners
23rd STSS Cajun Modifieds + FS, Lim Mods, Pro Mod, Sportster, Tuners
October
27th - 28th "The Grandaddy" - Ray Ingalls Memorial
Details To Be Announced
November
TBA
Back to News