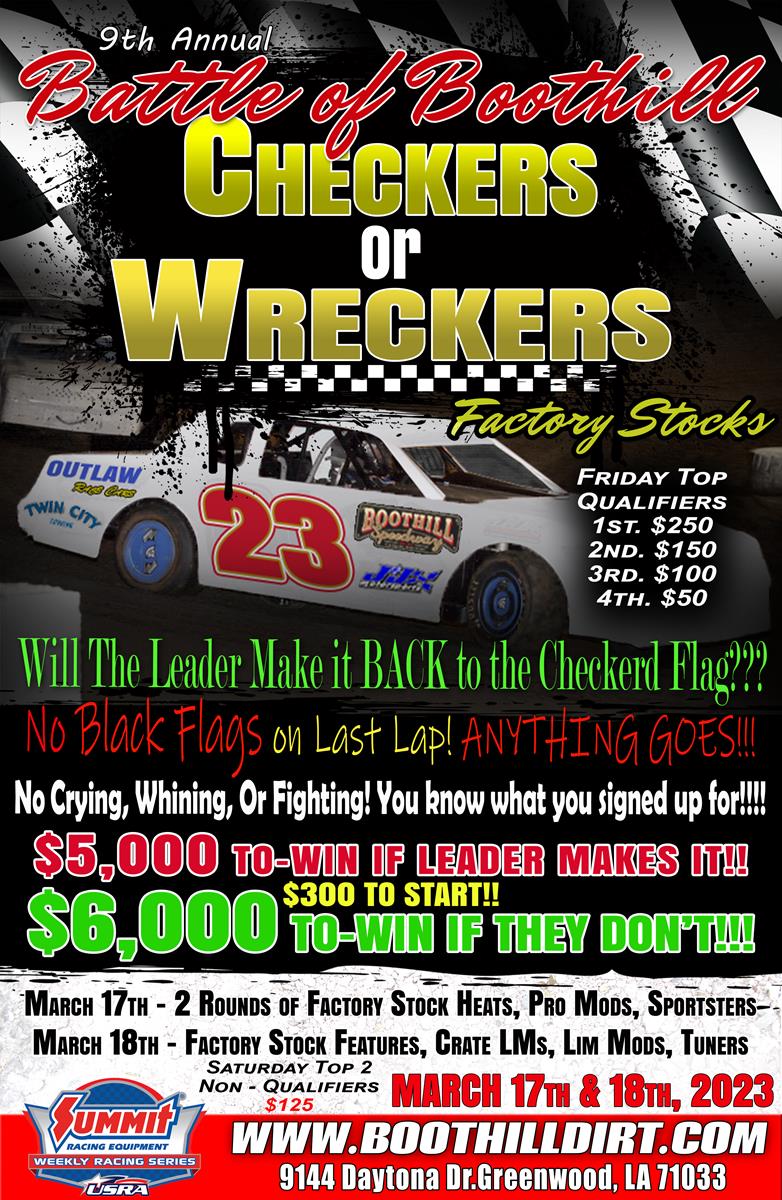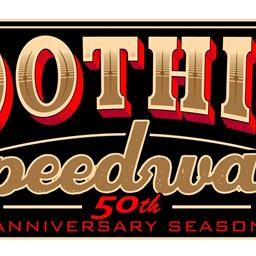 2/13/2023
Boothill Speedway
---
9th Annual Battle of Boothill "Checkers or Wreckers" returns in 2023 on March 17th and 18th
GREENWOOD, LA - The 9th Annual Battle of Boothill "Checkers or Wreckers" returns in 2023 on March 17th and 18th. The question is though Will the Leader at the WHITE FLAG make it back to the Checkered Flag???
The 2023 event will feature a 2-day event for the USRA sanctioned Factory Stocks paying a minimum $5,000 To-Win and $300 To-Start in the 40 Lap Main Event on Saturday night. Friday night the Factory Stocks will complete in 2 rounds of heat race action collecting passing points. On Saturday night, B Mains will be on tap and with the Main Event rounding out the weekends action.
The normal rules of racing will be in effect Friday night and until the White Flag is displayed on Saturday night, however that is when the gloves can come off....
The event will pay either $5,000 or $6,000 To-Win and will pay $300 To-Start. The Main Event will have a mandatory caution flag with 2 Laps to go. The race will then be restarted and once the leader takes the WHITE FLAG, the BLACK FLAG will be put away. ANYTHING GOES!!!
The only rules are you cannot shorten the track in any way, cut through the infield, or around the infield tires. It will be a Checkers or Wreckers lap!
If the leader that takes the white flag wins the main event, he pockets $5,000, 2nd on back at the White Flag wins $6,000 if they make it back to the line first!!! There is No Crying, Whining, or Fighting!!! You know what you signed up for!!!!
The Top 4 Qualifiers from Friday night are locked into the A Main on Saturday with Outlaw Race Cars putting up Top Qualifier Money for those 4 drivers. 1st. $250, 2nd. $150, 3rd. $100, 4th. $50.
J&J Motorsports has also put up $125 for the Top 2 B Main cars that do not transfer into Saturday night's Main Event.
$5,000 To-Win Purse - 1st $5,000, $2,000, $1,000, $800, $600, $500, $400, $350, $325, $300 thru 20th.
$6,000 To-Win Purse - 1st $6,000, $1,000, $800, $600, $500, $400, $350, $325, $300 thru 20th.
Back to News