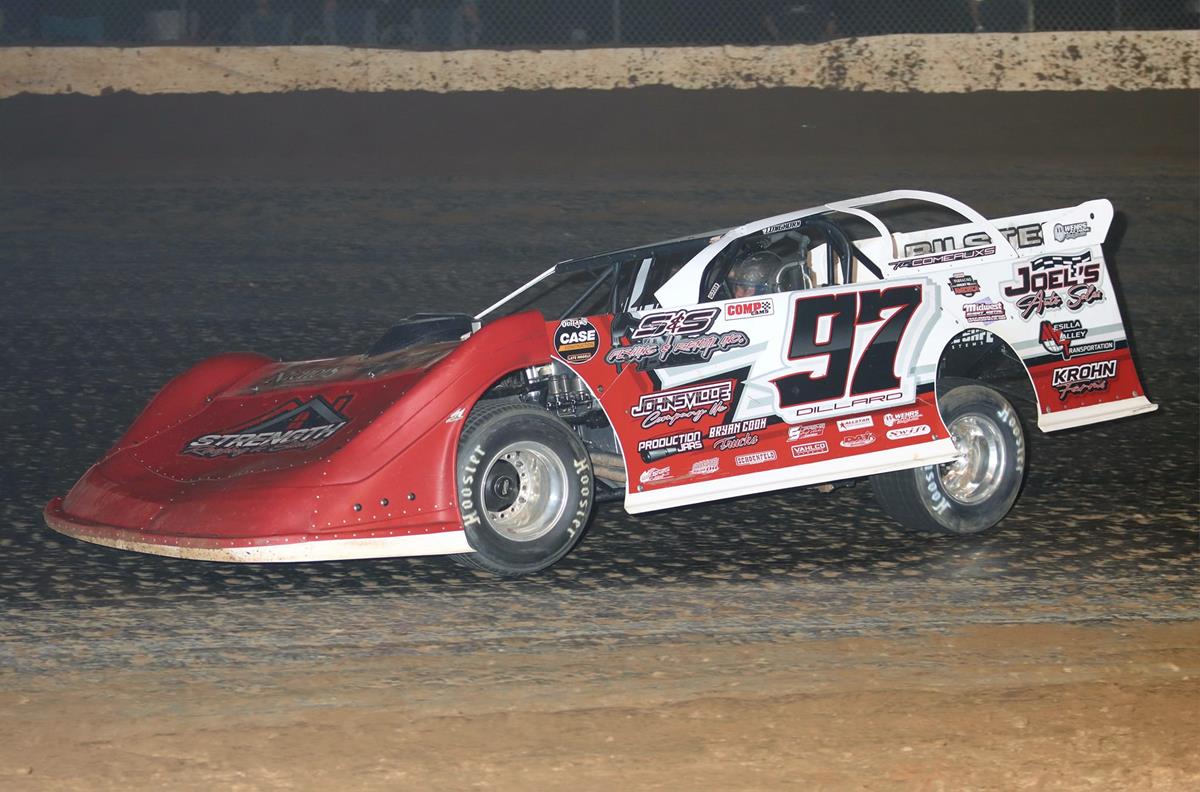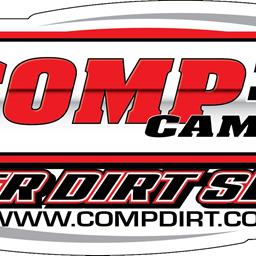 9/10/2023
COMP Cams Super Dirt Series (CCSDS)
---
Cade Dillard Wires COMP Cams Super Dirt Series at Boothill
Greenwood, La. (09/09/23) – After seeing Friday's event rained out at Texarkana 67 Speedway claimed by Mother Nature, the COMP Cams Super Dirt Series (CCSDS) Super Late Model Series returned to action on Saturday evening at Boothill Speedway (Greenwood, La.) with the the 51st annual Louisiana Dirt Track State Championship.
Home state driver Cade Dillard led all 40 laps of the feature to claim the $5,000 winner's check by 1.740 seconds over B.J. Robinson with Mason Oberkramer, Tyler Stevens, and Hunter Rasdon completing the Top-5 finishers.
The feature went caution free with Dillard outdueling NewVisionCustomShirts.com Pole Sitter, Mason Oberkramer to snag the lead at the drop of the green flag and ultimately the win.
The victory marked Dillard's second triumph of the season with the tour, with his last visit to CCSDS Victory Lane being registered on April 14 at Texarkana 67 Speedway.
Ending the weekend Billy Moyer Jr. continues to hold the Midwest Sheet Metal Marked Man status atop the standings, although Kyle Beard trimmed his lead to 17 markers.
Jamie Burford continues to lead the way in the Midwest Sheet Metal Rookie of the Year battle.
The tour now takes a one-week break before resuming the 2023 season on Sept. 22 – 23 with the annual Clash at the Mag at Magnolia Motor Speedway (Columbus, Miss.), which is headlined by a $4,000-to-win program on Friday and a $12,000-to-win slate on Saturday at the 3/8-mile oval.
The tire rule for the weekend is as follows:
Front Tires & Left Rear: Hoosier NLMT2, LM20, NLMT3, LM30
Right Rear: Hoosier NLMT3, LM30
For more information on the facilities, please visit www.MagnoliaDirt.com .
The COMP Cams Super Dirt Series is sponsored by and would like to thank all of their sponsors including- COMP Cams, Pannell Chipping, VP Racing Fuels, Mark Martin Automotive, Keyser Manufacturing, Hyperco, Weiland Metal Services, Case No. 1 Engine Oil, Fiber Tec Laser Cutting, P&W Sales, Mississippi Police Supply, Mr. Dent Paintless Dent Removal & Collision Repair, FloRacing, Tommy Surrett Trucking, NewVisionCustomShirts.com, Rocket Chassis, Midwest Sheet Metal, Black Diamond Chassis, World Racing Group, Hoosier Race Tires, Smiley's Racing Products, Dixon Road U-Pull-It, Beach Veterinarian Services, Air Power Consultants, Schoenfeld Headers, MI Truck Center, ASC Warranty, Quickcar Racing Products, Deatherage Opticians, Taylor Electric, DIRTcar Racing, Mid-State Golf Cars LLC, Delta Thunder Motorsports, Advanced Powder Coating, Farmer's Tree Service, Autocraft Paint & Bodyworks, Toyota, MSD, ARP, Edelbrock, MD3 Five Star Bodies, Chevrolet Performance, SUBLMTD Apparel, and MyRacePass Website & PR Services.
For the latest information on the COMP Cams Super Dirt Series presented by Lucas Oil, please visit www.COMPDirt.com.
COMP Cams Super Dirt Series – September 9, 2023
Boothill Speedway (Greenwood, La.)
Edelbrock A Feature 1 (40 Laps): 1. 97-Cade Dillard[2]; 2. 1-BJ Robinson[6]; 3. 93-Mason Oberkramer[1]; 4. 2T-Tyler Stevens[3]; 5. R5-Hunter Rasdon[8]; 6. 21M-Billy Moyer Sr[5]; 7. 86B-Kyle Beard[7]; 8. 14M-Morgan Bagley[10]; 9. 90R-Brian Rickman[4]; 10. 21JR-Billy Moyer Jr[9]; 11. 12-Scott Crigler[11]; 12. 20-Rodney Sanders[12]; 13. F1-Brett Frazier[15]; 14. 15-Clayton Stuckey[13]; 15. 19-Jamie Burford[17]; 16. 5C-Brad Couch[20]; 17. 21-David Winslett[19]; 18. 17-Jarret Stuckey[16]; 19. 88-Chance Mann[22]; 20. 5-Jon Mitchell[14]; 21. 11-Jon Kirby[21]; 22. 7-David Payne[18]
DNS: Keith Hammett, Mark Underwood, Jason Miles, Brandon Ball, Preston Farmer, Austin Theiss, Bubba Mullins, Joe Sheddan, Chris Reed, Kris Lloyd
Entries: 32
Mark Martin Automotive Group A Fast Qualifier (and overall): Keith Hammett (14.407 sec.)
Mark Martin Automotive Group B Fast Qualifier: Cade Dillard (14.671 sec.)
Mississippi Police Supply Heat Race #1 Winner: Mason Oberkramer
Delta Thunder Motorsports Heat Race #2 Winner: Tyler Stevens
SUBLMTD Heat Race #3 Winner: Cade Dillard
Weiland Heat Race #4 Winner: Brian Rickman
B-Main Winners: Jamie Burford, David Payne
MD3 Five Star Bodies Hard Charger: B.J. Robinson (6th to 2nd)
Lap Leaders: Cade Dillard (1-40)
Hyperco Hot Lap Fastest Lap: Brett Frazier (14.112 sec.)
Deatherage Opticians Lucky 13: Brett Frazier
NewVisionCustomShirts.com Pole Sitter: Mason Oberkramer
COMP Cams Top Performer: Cade Dillard
Midwest Sheet Metal Marked Man: Billy Moyer Jr.
Midwest Sheet Metal Rookie: Jamie Burford
---
Article Credit: Scott Burson image
Back to News