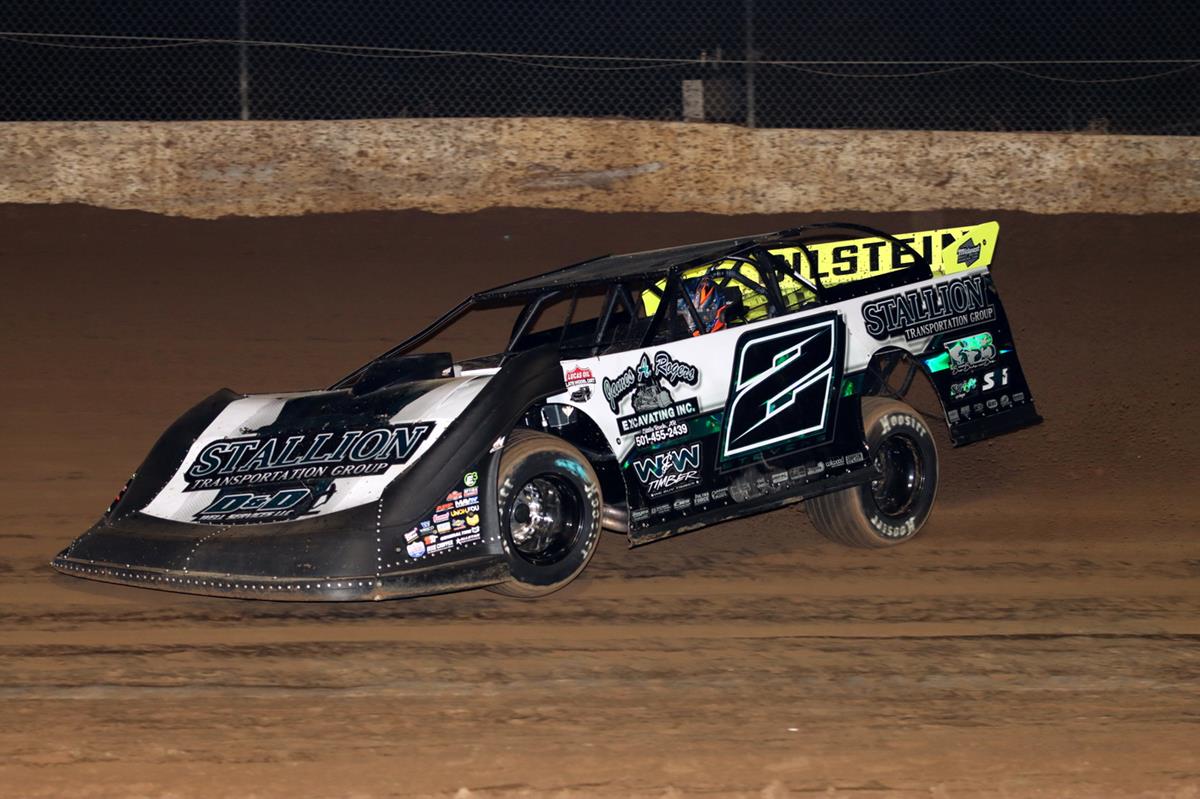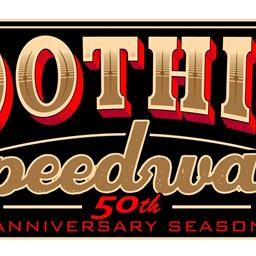 9/23/2022
Boothill Speedway
---
Stevens Tops Comp Cams Competitors. Lindsey, Washburn, and McCune are State Champs
GREENWOOD, La. (September 23, 2022) - The script for the opening night of the 50th Annual Louisiana State Dirt Track Championship at the Legendary Boothill Speedway has been written!
For the third straight event, the Sportsters broke the car count record, this time amassing 13 entries. John McCune of Stonewall was declared the champion after post-race inspection deemed the initial winner illegal, resulting in a disqualification. McCune has had a very good rookie season, picking up several race wins and now the biggest and most historic of them all! Chris Weatherford and Chad Porter were also on the podium.
The Frazier Accounting, Crate Late Models put on a good show, which ended with Tony Lindsey of Keithville collecting the top prize and being awarded with the Louisiana State Dirt Track Championship trophy! Tony made a stellar move to get around David Winslett who was then forced to settle for 2nd. Tyler Owens put together a solid night, finishing 3rd.
Mike Washburn of Shreveport was the only repeat winner during the opening night of the big weekend, securing his 2nd career title in the ProMods! Washburn has a knack for prestige as he backed up his 50th Anniversary Race win with a 50th LSDTC win! Jacob Twomey, Ryan Humphrey, Jason Beasley and BJ Cook completed the Top 5.
Finally, the main event for the COMP Cams Super Dirt Series took to the stage for a $6,000 top honor. It was none other than this year's Ronny Adams Memorial winner, Tyler Stevens of Searcy, Ark., who found himself back in ABC Auto Parts Victory Lane! Throughout much of the race, Logan Martin looked to be reeling in the #2, but ultimately fell short and finished as the runner-up. Louisiana native, Cade Dillard rallied to a podium finish, while Billy Moyer, Jr. and Kyle Beard rounded out the Top 5.
It all starts again tomorrow night for the conclusion of the 50th Annual Louisiana State Dirt Track Championship! The CCSDS Super Late Models race again for $6,000 to win and they'll be joined by three Advanced Powder Coating Weekly Racing Series divisions in the LED 4 Life Limited Modifieds, Granger Equipment Factory Stocks and the FWD 4-Cylinders! Don't miss out on all the action!
Frazier Accounting Crate Late Models 19 Entries
A Feature 20 Laps
485J-Tony Lindsey[6]; 2. 21-David Winslett[3]; 3. 8-Tyler Owens[1]; 4. 1-BJ Robinson[4]; 5. 2JR-Tim Eaves Jr[2]; 6. B17-Brandon Ball[9]; 7. 57-Chad Dupont[8]; 8. 11C-Jeff Chandler[11]; 9. 54G-Garrett Gibson[19]; 10. 00J-Joe Sheddan[17]; 11. 75-Anthony Boatman[18]; 12. 98-John Locke[16]; 13. 7S-Brent Stewart[5]; 14. 24-Garren Lindsey[12]; 15. 56G-Ray Goodman[15]; 16. 39-Jason Smith[14]; 17. 57A-Austin Dupont[7]; 18. 76B-Ethan Bryant[10]; 19. 21X-RYAN FRENCH[13]
Heat 1 8 Laps
8-Tyler Owens[1]; 2. 1-BJ Robinson[4]; 3. 57A-Austin Dupont[6]; 4. 76B-Ethan Bryant[5]; 5. 21X-RYAN FRENCH[3]; 6. 98-John Locke[7]; 7. 54G-Garrett Gibson[2]
Heat 2 8 Laps
2JR-Tim Eaves Jr[1]; 2. 7S-Brent Stewart[4]; 3. 57-Chad Dupont[5]; 4. 11C-Jeff Chandler[3]; 5. 39-Jason Smith[6]; 6. 00J-Joe Sheddan[2]
Heat 3 8 Laps
21-David Winslett[2]; 2. 485J-Tony Lindsey[4]; 3. B17-Brandon Ball[3]; 4. 24-Garren Lindsey[6]; 5. 56G-Ray Goodman[1]; 6. 75-Anthony Boatman[5]
Pro Mods 20 Entries
A Feature 20 Laps
27-Mike Washburn[2]; 2. T11-Jacob Twomey[6]; 3. 115-Ryan Humphrey[1]; 4. 16-Jason Beasley[9]; 5. 43J-BJ Cook[4]; 6. 4-Jeffrey Beshea[12]; 7. 515-Trent Humphrey[8]; 8. 98-John Locke[18]; 9. 87W-Julie Whitney[7]; 10. 2-Jeff Rice[15]; 11. L8-Chase Hatton[5]; 12. B99-William Brooks[3]; 13. 54T-Heath Thompson[19]; 14. 84-Dakota Tutt[11]; 15. *3-Robert Delude[14]; 16. 257-Mike Jones[10]; 17. 23-Coty Tupper[17]; 18. 33-Randy Darlin[13]; 19. 52-Jeremy Rogers[20]; 20. (DNS) 24-Chance Hatton
Heat 1 8 Laps
115-Ryan Humphrey[3]; 2. 43J-BJ Cook[5]; 3. 87W-Julie Whitney[2]; 4. 257-Mike Jones[6]; 5. 33-Randy Darlin[4]; 6. 24-Chance Hatton[1]; 7. 52-Jeremy Rogers[7]
Heat 2 8 Laps
27-Mike Washburn[1]; 2. L8-Chase Hatton[6]; 3. 515-Trent Humphrey[5]; 4. 84-Dakota Tutt[2]; 5. *3-Robert Delude[3]; 6. 23-Coty Tupper[7]; 7. 54T-Heath Thompson[4]
Heat 3 8 Laps
B99-William Brooks[1]; 2. T11-Jacob Twomey[2]; 3. 16-Jason Beasley[3]; 4. 4-Jeffrey Beshea[6]; 5. 2-Jeff Rice[5]; 6. 98-John Locke[4]
Sportsters 13 Entries
A Feature 15 Laps
194-John McCune[1]; 2. E7-Chris Weatherford[3]; 3. 49-Chad Porter[4]; 4. 5-Dusty Dupont[6]; 5. 67-Jeff Zimmerman[10]; 6. 777-Mikee Brunker[8]; 7. K8-Ed Cox[9]; 8. 4A-Austin Warner[12]; 9. XXR-Racyn Graham[11]; 10. 99-Garry Lipscomb[13]; 11. (DNS) Z83-JEFF BROOKS; 12. (DNS) 81-Chris White; 13. (DQ) XX-Shawn Graham[2]
Heat 1 8 Laps
194-John McCune[4]; 2. E7-Chris Weatherford[3]; 3. Z83-JEFF BROOKS[6]; 4. 81-Chris White[1]; 5. K8-Ed Cox[7]; 6. XXR-Racyn Graham[2]; 7. 99-Garry Lipscomb[5]
Heat 2 8 Laps
XX-Shawn Graham[5]; 2. 49-Chad Porter[1]; 3. 5-Dusty Dupont[3]; 4. 777-Mikee Brunker[2]; 5. 67-Jeff Zimmerman[6]; 6. 4A-Austin Warner[4]
---
Article Credit: Joshua Bell
Article Media
Back to News