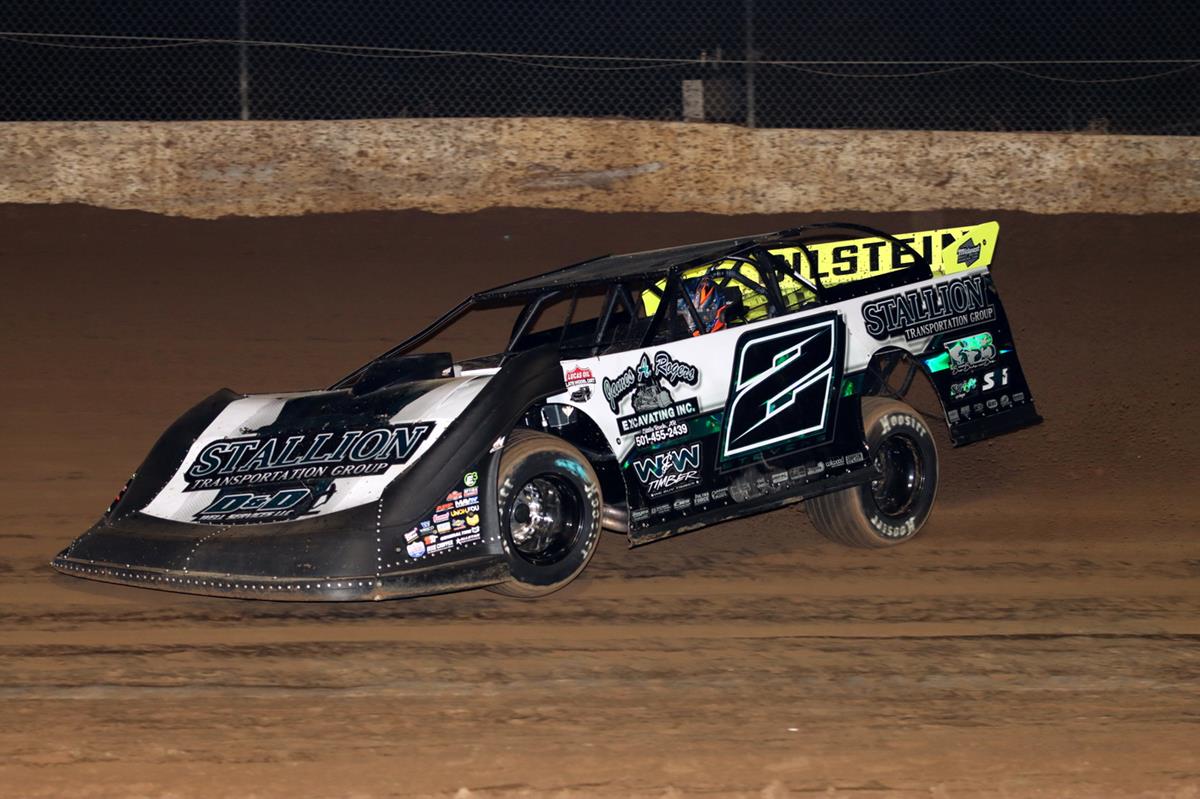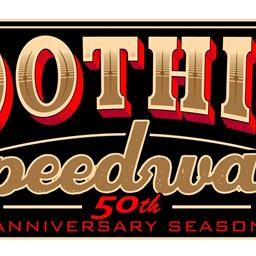 9/24/2022
Boothill Speedway
---
Stevens Secures Clean Sweep, Grigsby, Myers, DuPont Claim Championship Crowns
GREENWOOD, La. (September 24, 2022) - Joshua Bell
The 50th Annual Louisiana State Dirt Track Championship at Boothill Speedway is in the books! 3 new champions were crowned for the Advanced Powder Coating Weekly Racing Series!
The COMP Cams Super Dirt Series were great headliners as Tyler Stevens of Searcy, Ark. bagged a clean sweep worth $12,000! Stevens has proved himself to be a tough customer at the high-banked oval in Northwest Louisiana, having won the last 3 Super Late Model events held at the Hill! Cade Dillard didn't make it easy for him as he tried to defend Louisiana soil, but ultimately did not have enough to get by for the win. 2 time series champ Kyle Beard completed the podium. Current point leader Brian Rickman was 4th with Morgan Bagley 5th.
The LED 4 Life Limited Modifieds put on an absolute show which saw Derick Grigsby of Marshall, Texas secure what he estimated to be his 10th Louisiana State Dirt Track Championship trophy, holding off a high-flying Jason Ingalls, who has a handful of championships himself! Stephen Guidry came home in 3rd with Josh Baucom and Jake Huckaby completing the Top 5.
Jack DuPont of Shreveport continued his dominant season with the FWD 4-Cylinders, picking up his 17th win of the season and the most prestigious of them all! "Cadillac Jack" led the race in its entirety and was able to outrun Conner Cook and Hunter Armstrong.
The Granger Equipment Factory Stocks came to a close with Cody Myers of Bossier City parking it in ABC Auto Parts Victory Lane! Cody spoke of how much this race means to him, "I've wanted to win this one ever since I was a kid, so it's a dream come true!" Justin Whitehead, a mutli-time champion, was forced to settle for 2nd with Jason Ingalls completing a solid night of double duty with another podium finish.
Boothill Speedway will be back in action on October 29 for Fan Appreciation Night featuring the make-up feature for the Factory Stock portion of the Billy Melton Memorial, $1,587 to win!
Dirt Super Late Models 22 Entries
A Feature 1 35 Laps
2-Tyler Stevens[1]; 2. 97-Cade Dillard[3]; 3. 86B-Kyle Beard[5]; 4. 90R-Brian Rickman[2]; 5. 14-Morgan Bagley[6]; 6. 1-BJ Robinson[8]; 7. R5-Hunter Rasdon[4]; 8. 36M-Logan Martin[9]; 9. 19-Jamie Burford[12]; 10. 21-Billy Moyer Jr[10]; 11. 47P-Chandler Petty[7]; 12. 17-Jarret Stuckey[17]; 13. 11A-Bubba Mullins[16]; 14. 5-Jon Mitchell[11]; 15. 15-Clayton Stuckey[13]; 16. 2JR-Tim Eaves[20]; 17. F1-Brett Frazier[14]; 18. 11-Jon Kirby[19]; 19. 65-Dewaine Hottinger[18]; 20. 31-Alex Ashley[15]; 21. 37-Joseph Long[21]; 22. 5C-Brad Couch[22]
Heat 1 8 Laps
2-Tyler Stevens[3]; 2. R5-Hunter Rasdon[1]; 3. 47P-Chandler Petty[4]; 4. 21-Billy Moyer Jr[5]; 5. 15-Clayton Stuckey[6]; 6. 31-Alex Ashley[7]; 7. 65-Dewaine Hottinger[2]; 8. (DNS) 37-Joseph Long
Heat 2 8 Laps
90R-Brian Rickman[1]; 2. 86B-Kyle Beard[2]; 3. 1-BJ Robinson[4]; 4. 5-Jon Mitchell[5]; 5. 5C-Brad Couch[6]; 6. 11A-Bubba Mullins[7]; 7. 11-Jon Kirby[3]
Heat 3 8 Laps
97-Cade Dillard[1]; 2. 14-Morgan Bagley[3]; 3. 36M-Logan Martin[2]; 4. 19-Jamie Burford[4]; 5. F1-Brett Frazier[5]; 6. 17-Jarret Stuckey[6]; 7. 2JR-Tim Eaves[7]
Qualifying 1
R5-Hunter Rasdon, 00:13.856[4]; 2. 90R-Brian Rickman, 00:13.859[5]; 3. 97-Cade Dillard, 00:13.994[2]; 4. 65-Dewaine Hottinger, 00:14.042[15]; 5. 86B-Kyle Beard, 00:14.083[14]; 6. 36M-Logan Martin, 00:14.104[11]; 7. 2-Tyler Stevens, 00:14.146[7]; 8. 11-Jon Kirby, 00:14.152[3]; 9. 14-Morgan Bagley, 00:14.173[8]; 10. 47P-Chandler Petty, 00:14.215[17]; 11. 1-BJ Robinson, 00:14.262[20]; 12. 19-Jamie Burford, 00:14.347[9]; 13. 21-Billy Moyer Jr, 00:14.351[18]; 14. 5-Jon Mitchell, 00:14.378[16]; 15. F1-Brett Frazier, 00:14.418[10]; 16. 15-Clayton Stuckey, 00:14.563[1]; 17. 5C-Brad Couch, 00:14.563[6]; 18. 17-Jarret Stuckey, 00:14.578[22]; 19. 31-Alex Ashley, 00:14.707[19]; 20. 11A-Bubba Mullins, 00:14.707[21]; 21. 2JR-Tim Eaves, 00:15.125[12]; 22. 37-Joseph Long, 00:21.000[13]
Granger Equipment Factory Stocks 37 Entries
A Feature 20 Laps
55M-Cody Myers[2]; 2. 36J-Justin Whitehead[6]; 3. 10X-Jason Ingalls[7]; 4. 34JR-Josh Daugherty[3]; 5. 27-Dalton Faulkner[14]; 6. 41-Dylan Elasko[10]; 7. 73-Michael Hail[16]; 8. 53-Hayden Brown[21]; 9. J23-Joe Miller[12]; 10. COLT45-Dean Rascoe[5]; 11. 34P-Peyton Daugherty[20]; 12. 123-Brett Jensen[19]; 13. 12N-Josh Worn[17]; 14. 1-Stoney Dubois[22]; 15. 99X-Don Grindle[18]; 16. 62-Dustin Choate[24]; 17. 17-Derek Miller[23]; 18. 81-Ricky Ingalls[1]; 19. 100+-Bryan Cook[13]; 20. 175-Michael Turner[8]; 21. 75X-Chad Ince[4]; 22. XXX-Shawn Graham[9]; 23. 5C-Frank Canizoro[11]; 24. 38-Mike Wells[15]
B Feature 1 10 Laps
12N-Josh Worn[3]; 2. 123-Brett Jensen[1]; 3. 53-Hayden Brown[2]; 4. 17-Derek Miller[5]; 5. D27-Devon Kruithof[6]; 6. 74M-Josh Millican[7]; 7. 22G-Robert Graham[4]; 8. 6-Garry Lipscomb[9]
B Feature 2 10 Laps
99X-Don Grindle[1]; 2. 34P-Peyton Daugherty[2]; 3. 1-Stoney Dubois[7]; 4. 62-Dustin Choate[4]; 5. 32L-Luke Wheat[3]; 6. FOUR-Landon Rogers[9]; 7. 13X-Austin Hail[8]; 8. 234-Chad Dijkman[6]; 9. 27G-Cade Galey[5]
Heat 1 8 Laps
81-Ricky Ingalls[1]; 2. COLT45-Dean Rascoe[2]; 3. XXX-Shawn Graham[3]; 4. 100+-Bryan Cook[10]; 5. 123-Brett Jensen[4]; 6. 12N-Josh Worn[9]; 7. 17-Derek Miller[8]; 8. 74M-Josh Millican[6]; 9. 6-Garry Lipscomb[5]; 10. 3-RANDELL THOMPSON[7]
Heat 2 8 Laps
55M-Cody Myers[2]; 2. 36J-Justin Whitehead[1]; 3. 41-Dylan Elasko[3]; 4. 27-Dalton Faulkner[7]; 5. 99X-Don Grindle[9]; 6. 32L-Luke Wheat[4]; 7. 27G-Cade Galey[5]; 8. 1-Stoney Dubois[6]; 9. FOUR-Landon Rogers[8]
Heat 3 8 Laps
34JR-Josh Daugherty[4]; 2. 10X-Jason Ingalls[7]; 3. 5C-Frank Canizoro[5]; 4. 38-Mike Wells[6]; 5. 53-Hayden Brown[8]; 6. 22G-Robert Graham[1]; 7. D27-Devon Kruithof[2]; 8. 107-steve Thompson[3]; 9. (DQ) 12-Bo Perry[9]
Heat 4 8 Laps
75X-Chad Ince[1]; 2. 175-Michael Turner[3]; 3. J23-Joe Miller[2]; 4. 73-Michael Hail[5]; 5. 34P-Peyton Daugherty[6]; 6. 62-Dustin Choate[9]; 7. 234-Chad Dijkman[8]; 8. 13X-Austin Hail[7]; 9. C8-Jeremy Crumpler[4]
LED4 Life Limited Modifieds 31 Entries
A Feature 1 20 Laps
69-Derick Grigsby[1]; 2. 12-Jason Ingalls[7]; 3. K1-Stephen Guidry[2]; 4. 25-Josh Baucom[10]; 5. 18J-Jake Huckaby[6]; 6. 36-Colby Mewborn[17]; 7. 81-Ricky Ingalls[19]; 8. 23JR-Cliff Tupper[4]; 9. 23-Coty Tupper[9]; 10. F5-Skeet Amason[18]; 11. 76-Joe Findling[14]; 12. 20W-Joe Wilhelm Jr[22]; 13. 36C-Connor Mewborn[21]; 14. 66-Dylan Beasley[15]; 15. 44X-James Brown[8]; 16. 25P-Riley Poole[12]; 17. C12-Chris Hall[5]; 18. 62-James Griffin[23]; 19. 3-Levi Wilkerson[11]; 20. 21F-Jacob Fricks[24]; 21. 55-John Smelley[16]; 22. 00H-JD Ammons[13]; 23. 20T-Brent Tidwell[20]; 24. (DNS) C88-Carson Bradley
B Feature 1 10 Laps
36-Colby Mewborn[2]; 2. F5-Skeet Amason[1]; 3. 81-Ricky Ingalls[3]; 4. 20T-Brent Tidwell[9]; 5. 36C-Connor Mewborn[14]; 6. 20W-Joe Wilhelm Jr[12]; 7. 62-James Griffin[5]; 8. 21F-Jacob Fricks[11]; 9. T5-Tommy Tullis[15]; 10. 25J-Jacob McRae[13]; 11. 409-Ron Willardson[10]; 12. 1E-Matt Ebarb[6]
Heat 1 8 Laps
69-Derick Grigsby[1]; 2. C12-Chris Hall[6]; 3. 23-Coty Tupper[4]; 4. 00H-JD Ammons[5]; 5. F5-Skeet Amason[7]; 6. 62-James Griffin[8]; 7. 20T-Brent Tidwell[2]; 8. 25J-Jacob McRae[3]
Heat 2 8 Laps
K1-Stephen Guidry[2]; 2. 18J-Jake Huckaby[1]; 3. 25-Josh Baucom[3]; 4. 76-Joe Findling[8]; 5. 36-Colby Mewborn[7]; 6. 1E-Matt Ebarb[4]; 7. 409-Ron Willardson[5]; 8. 36C-Connor Mewborn[6]
Heat 3 8 Laps
C88-Carson Bradley[1]; 2. 12-Jason Ingalls[4]; 3. 3-Levi Wilkerson[2]; 4. 66-Dylan Beasley[5]; 5. 81-Ricky Ingalls[8]; 6. 61-Trint Kenward[6]; 7. 21F-Jacob Fricks[3]; 8. T5-Tommy Tullis[7]
Heat 4 8 Laps
23JR-Cliff Tupper[3]; 2. 44X-James Brown[1]; 3. 25P-Riley Poole[7]; 4. 55-John Smelley[6]; 5. 213-Timothy Strickland[5]; 6. (DNS) 1B-John Berry; 7. (DNS) 20W-Joe Wilhelm Jr
FWDs 13 Entries
A Feature 1 15 Laps
06-Jack Dupont[1]; 2. 22-Conner Cook[3]; 3. 25-Hunter Armstrong[4]; 4. 05-Luke Dupont[2]; 5. 46-Jackson Gallagher[12]; 6. 29B-Brandon Harrod[7]; 7. 21-Amanda Cook[8]; 8. F5-Ben McDuff[5]; 9. 00H-John Harris[10]; 10. 0-Steve McEachern[6]; 11. 2-MADDISON GADDIS[9]; 12. 814-David Tolleson[11]
Heat 1 8 Laps
06-Jack Dupont[2]; 2. 22-Conner Cook[4]; 3. F5-Ben McDuff[5]; 4. 29B-Brandon Harrod[1]; 5. 2-MADDISON GADDIS[7]; 6. 814-David Tolleson[6]; 7. 13S-Donald Wallace[3]
Heat 2 8 Laps
05-Luke Dupont[2]; 2. 25-Hunter Armstrong[4]; 3. 0-Steve McEachern[3]; 4. 21-Amanda Cook[5]; 5. 00H-John Harris[6]; 6. 46-Jackson Gallagher[1]
---
Article Credit: Joshua Bell
Article Media
Back to News