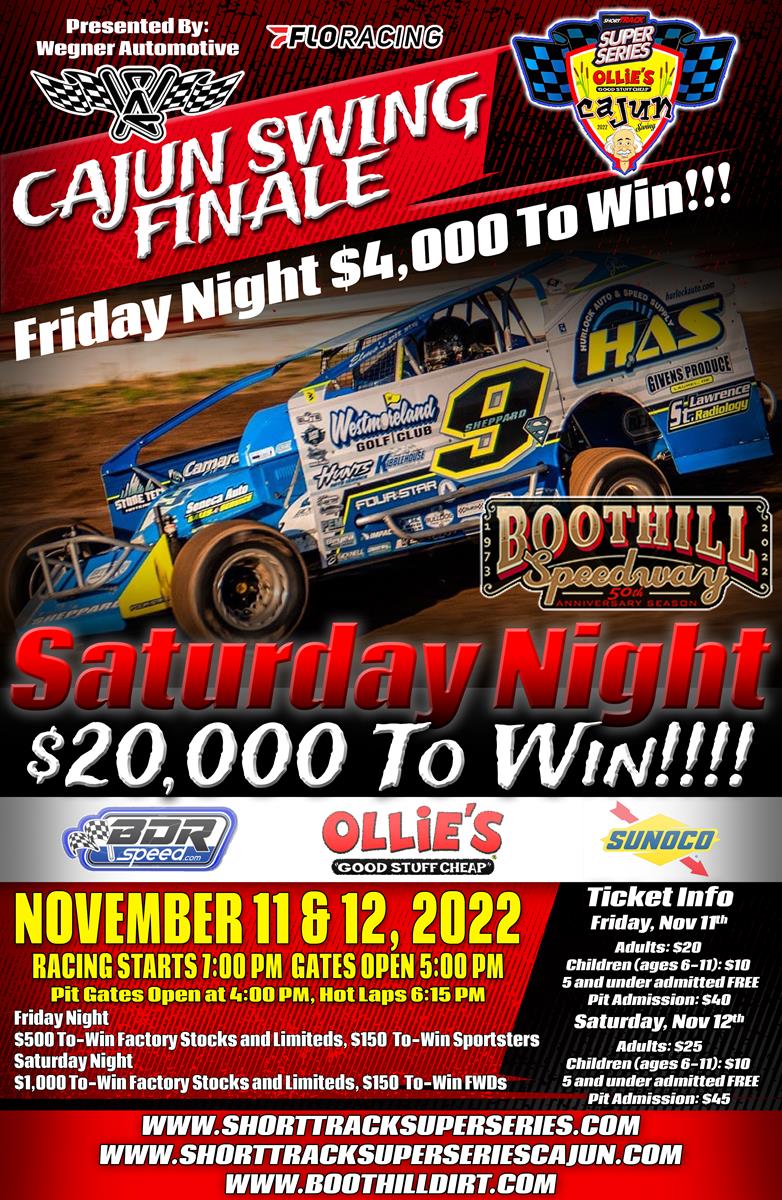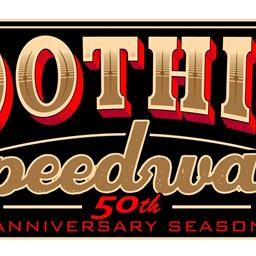 10/26/2022
Boothill Speedway
---
Short Track Super Series Modified "Cajun Swing" Closes Out Boothill Speedway's 50th Anniversary Season November 11th and 12th
GREENWOOD, LA - The Short Track Super Series closes their 2022 Cajun Swing and Boothill Speedway's 50th Anniversary season on November 11th and 12th with 2 big single day shows. Friday night's main event winner will receive $4,000 with $20,000 going to the winner of Saturday night's main event!. Race Time each night will be 7 PM.
For the third consecutive year, the Bob Hilbert Sportswear Short Track Super Series (STSS) Fueled By Sunoco heads south for the 'Cajun Swing' mini-series, bring together the series' Northeastern stars with the drivers of the Louisiana- and Texas-based 'Cajun Region' completing its second season. "When the opportunity became available for Boothill Speedway to host the final 2 events of the Cajun Swing and simultaneously close out our 50th Anniversary Season, well we couldn't pass that up." - Boothill Speedway's Brian Frazier.
Competing both nights with the STSS Modifieds will be the Factory Stocks and Limited Modifieds. Both classes will be competing for $500 to-win on Friday night and $1,000 To-Win on Saturday night. Boothill Speedway and USRA rules for both divisions will be followed for the weekend (B Mods will not be allowed to compete with the Limited Modifieds). Also on the weekend card will be the Sportsters chasing $150 To-Win on Friday night and the FWDs on Saturday night chasing $150 To-Win. The Sportsters and FWDs will both be following Boothill Speedway's normal rules packages.
50% off General Admission coupons will be available at the Shreveport, Bossier City, and Marshall, TX Ollie's locations. Boothill Speedway will also have coupons available Saturday night, October 28th with a General Admission ticket purchase while supplies last.
Friday, November 11 – Boothill Speedway/Greenwood, Louisiana
STSS Modifieds 30 laps, $4,000 to win plus Limited Modifieds ($500 to win), Factory Stocks ($500 to win) & Sportsters ($150 to win)
Pit Gates: 4 p.m. - Grandstand Gates: 5 p.m. - Hot Laps: 6:15 p.m. - Racing: 7 p.m.
Adults: $20 - Children (ages 6-11): $10 - 5 and Under admitted FREE
Pit Admission: $40
Saturday, November 12 – Boothill Speedway/Greenwood, Louisiana
STSS Modifieds 'Gunslinger 50' $20,000 to win plus Limited Modifieds ($1,000 to win), Factory Stocks ($1,000 to win) & FWD Four Cylinders ($150 to win)
Pit Gates: 4 p.m. - Grandstand Gates: 5 p.m. - Hot Laps: 6:15 p.m. - Racing: 7 p.m.
Adults: $25 - Children (ages 6-11): $10 - 5 and Under admitted FREE
Pit Admission: $45
Back to News