STSS Cajun Big Block Modifieds!!
STSS Cajun Big Block Modifieds April15th!!

ASCS National Sprint Car Series
April 22nd!!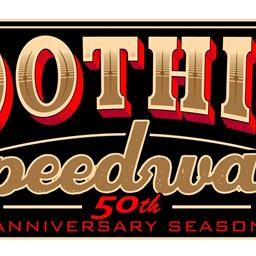 6/24/2023 - Boothill Speedway
Greenwood, LA
Fast Family Fun featuring USRA Factory, USRA Limited, Promod, Sportster, USRA Tuner
Pits Open: 4PM
General Admission Opens: 5PM
Draw Ends/Drivers Meeting: 6:30PM
Hot Laps 7:00PM
Racing to Follow
Running Order:
USRA Factory
USRA Limited
Pro Mod
Sportster
USRA Tuner
Heats
B Mains
INTERMISSION (If needed)
Features
All classes are scored by transponder and a back up hand scorer. Transponders are available for rent for $10 for the event. All classes will be on a passing point format. All driver must use a Raceceiver Channel 454.000. All USRA Sanctioned classes must have a USRA license, a temp can be purchased at registration for $10 per event.
"If You Wanna Race, The Hill's The Place"
American Racer USRA Limited Mods

23 entries

Sunoco USRA Factory Stocks

33 entries

USRA Tuners

15 entries

Sportsters

7 entries

Pro-Mods

19 entries
Full Event Information on MyRacePass
American Racer USRA Limited Mods
Finish
Start
#
Competitor
Hometown
+/-
1
3
69
Derick Grigsby Marshall, TX
Marshall, TX
2
2
7
81
Ricky Ingalls Longview, TX
Longview, TX
5
3
2
7CC
Colby Williams Sibley, LA
Sibley, LA
-1
4
1
K1
Stephen Guidry Marksville, LA
Marksville, LA
-3
5
9
47CC
Conner Williams Sibley, LA
Sibley, LA
4
6
6
23
Coty Tupper Blanchard, LA
Blanchard, LA
-
7
13
66
Dylan Beasley Tyler, TX
Tyler, TX
6
8
15
5H
Damien Hogan Gray, TX
Gray, TX
7
9
17
1*
Adam Penn Shreveport, LA
Shreveport, LA
8
10
16
3
Levi Wilkerson Rusk, TX
Rusk, TX
6
11 BF
19
11P
Peyton Parker Florien, LA
Florien, LA
8
12 DNF
5
44
Jason Nation Kilgore, TX
Kilgore, TX
-7
13 DNF
10
4T
Brandon Tullis Mooringsport, LA
Mooringsport, LA
-3
14 DNF
11
55S
John Smelley Longview, TX
Longview, TX
-3
15 DNF
12
34
Quinton Jackson Mineola, TX
Mineola, TX
-3
16 DNF
18
21
Jacob Fricks Shreveport, LA
Shreveport, LA
2
17 DNF
20
7
Chandler Shields Marshall, TX
Marshall, TX
3
18 DNF
23
21X
Jason Pool Calhoun, LA
Calhoun, LA
5
19 DNF
8
18H
Stephen Hogan Jefferson, TX
Jefferson, TX
-11
20 DNF
22
27
Ethan Bryant Coushatta, LA
Coushatta, LA
2
21 DNF
4
06
Jack Dupont Shreveport, LA
Shreveport, LA
-17
DNS
14
1
John Berry Haughton, LA
Haughton, LA
-
DNS
21
M22
James Dubroc Boyce, LA
Boyce, LA
-
Finish
Start
#
Competitor
Hometown
+/-
1
4
K1
Stephen Guidry Marksville, LA
Marksville, LA
3
2
7
7CC
Colby Williams Sibley, LA
Sibley, LA
5
3
5
81
Ricky Ingalls Longview, TX
Longview, TX
2
4
2
66
Dylan Beasley Tyler, TX
Tyler, TX
-2
5
8
27
Ethan Bryant Coushatta, LA
Coushatta, LA
3
6
6
5H
Damien Hogan Gray, TX
Gray, TX
-
7
1
21
Jacob Fricks Shreveport, LA
Shreveport, LA
-6
8
3
7
Chandler Shields Marshall, TX
Marshall, TX
-5
Finish
Start
#
Competitor
Hometown
+/-
1
3
69
Derick Grigsby Marshall, TX
Marshall, TX
2
2
5
44
Jason Nation Kilgore, TX
Kilgore, TX
3
3
4
18H
Stephen Hogan Jefferson, TX
Jefferson, TX
1
4
7
47CC
Conner Williams Sibley, LA
Sibley, LA
3
5
8
34
Quinton Jackson Mineola, TX
Mineola, TX
3
6
6
3
Levi Wilkerson Rusk, TX
Rusk, TX
-
7
1
11P
Peyton Parker Florien, LA
Florien, LA
-6
DNS
2
M22
James Dubroc Boyce, LA
Boyce, LA
-
Finish
Start
#
Competitor
Hometown
+/-
1
1
23
Coty Tupper Blanchard, LA
Blanchard, LA
-
2
6
06
Jack Dupont Shreveport, LA
Shreveport, LA
4
3
3
4T
Brandon Tullis Mooringsport, LA
Mooringsport, LA
-
4
5
55S
John Smelley Longview, TX
Longview, TX
1
5
4
1
John Berry Haughton, LA
Haughton, LA
-1
6
7
21X
Jason Pool Calhoun, LA
Calhoun, LA
1
7
2
1*
Adam Penn Shreveport, LA
Shreveport, LA
-5
Sunoco USRA Factory Stocks
Finish
Start
#
Competitor
Hometown
+/-
1
1
2H
C.J. Howell Dry Prong, LA
Dry Prong, LA
-
2
3
B1
Kyle Cummings Shreveport, LA
Shreveport, LA
1
3
5
12
Bo Perry Bossier City, LA
Bossier City, LA
2
4
7
215
T.J. Evans Sabine, TX
Sabine, TX
3
5
8
28
Collin Hodges Wells, TX
Wells, TX
3
6
2
10X
Chase Hatton De Berry, TX
De Berry, TX
-4
7
6
25S
Justin Sells Texarkana, AR
Texarkana, AR
-1
8
15
55M
Cody Myers Bossier City, LA
Bossier City, LA
7
9
14
25
Gary Harvin Fouke, AR
Fouke, AR
5
10
10
175
John Tuggle Jr Haughton, LA
Haughton, LA
-
11
16
444
Travis Hudnall Liberty, TX
Liberty, TX
5
12
13
3D
Charles Duck Sarepta, LA
Sarepta, LA
1
13
18
55D
Dalton Dubois Robeline, LA
Robeline, LA
5
14
20
82
Bryan Grosjean Shreveport, LA
Shreveport, LA
6
15
9
26
Nathan Hatten Winnfield, LA
Winnfield, LA
-6
16
11
3
Rodney Howell Colfax, LA
Colfax, LA
-5
17
12
8S
Chris Sawyer
-5
18
17
14
Jared Mitchell MARTHAVILLE, LA
MARTHAVILLE, LA
-1
19
4
1T
Jason Tiner Winona, TX
Winona, TX
-15
20
19
1D
Stoney Dubois Robeline, LA
Robeline, LA
-1
Finish
Start
#
Competitor
Hometown
+/-
1
2
55M
Cody Myers Bossier City, LA
Bossier City, LA
1
2
11
444
Travis Hudnall Liberty, TX
Liberty, TX
9
3
4
14
Jared Mitchell MARTHAVILLE, LA
MARTHAVILLE, LA
1
4
17
55D
Dalton Dubois Robeline, LA
Robeline, LA
13
5
15
1D
Stoney Dubois Robeline, LA
Robeline, LA
10
6
14
82
Bryan Grosjean Shreveport, LA
Shreveport, LA
8
Top 6 transfer
7
5
F73
Michael Hail Kilgore, TX
Kilgore, TX
-2
8 DNF
18
10PJ
JP Powers Gilmer, TX
Gilmer, TX
10
9 DNF
3
21R
Landon Rogers Karnack, TX
Karnack, TX
-6
10 DNF
12
12S
David Smith Ruston, LA
Ruston, LA
2
11 DNF
13
14B
Megan Ford Pitkin, LA
Pitkin, LA
2
12 DNF
1
93
Caleb Smith Chatham, LA
Chatham, LA
-11
13 DNF
16
L88
Logan Gordon W Monroe, LA
W Monroe, LA
3
14 DNF
7
27G
Cade Galey Stonewall, LA
Stonewall, LA
-7
15 DNF
19
54
Kevin Sullivan Palestine, TX
Palestine, TX
4
16 DNF
8
7H
Chris Hair Benton, LA
Benton, LA
-8
17 DNF
6
24L
Garren Lipinski Minden, LA
Minden, LA
-11
18 DNF
10
67
Matt Owings Longview, TX
Longview, TX
-8
DNS
9
34
Chris Howell Ball, LA
Ball, LA
-
Finish
Start
#
Competitor
Hometown
+/-
1
6
2H
C.J. Howell Dry Prong, LA
Dry Prong, LA
5
2
4
25S
Justin Sells Texarkana, AR
Texarkana, AR
2
3
8
1T
Jason Tiner Winona, TX
Winona, TX
5
4
5
3
Rodney Howell Colfax, LA
Colfax, LA
1
5
9
175
John Tuggle Jr Haughton, LA
Haughton, LA
4
6
2
24L
Garren Lipinski Minden, LA
Minden, LA
-4
7
11
14
Jared Mitchell MARTHAVILLE, LA
MARTHAVILLE, LA
4
8
10
7H
Chris Hair Benton, LA
Benton, LA
2
9
1
14B
Megan Ford Pitkin, LA
Pitkin, LA
-8
10
3
55D
Dalton Dubois Robeline, LA
Robeline, LA
-7
11
7
1D
Stoney Dubois Robeline, LA
Robeline, LA
-4
Finish
Start
#
Competitor
Hometown
+/-
1
6
10X
Chase Hatton De Berry, TX
De Berry, TX
5
2
2
215
T.J. Evans Sabine, TX
Sabine, TX
-
3
4
26
Nathan Hatten Winnfield, LA
Winnfield, LA
1
4
3
8S
Chris Sawyer
-1
5
1
21R
Landon Rogers Karnack, TX
Karnack, TX
-4
6
9
55M
Cody Myers Bossier City, LA
Bossier City, LA
3
7
10
F73
Michael Hail Kilgore, TX
Kilgore, TX
3
8
8
34
Chris Howell Ball, LA
Ball, LA
-
9
7
444
Travis Hudnall Liberty, TX
Liberty, TX
-2
10
5
L88
Logan Gordon W Monroe, LA
W Monroe, LA
-5
11
11
54
Kevin Sullivan Palestine, TX
Palestine, TX
-
Finish
Start
#
Competitor
Hometown
+/-
1
5
B1
Kyle Cummings Shreveport, LA
Shreveport, LA
4
2
1
28
Collin Hodges Wells, TX
Wells, TX
-1
3
8
12
Bo Perry Bossier City, LA
Bossier City, LA
5
4
3
3D
Charles Duck Sarepta, LA
Sarepta, LA
-1
5
7
25
Gary Harvin Fouke, AR
Fouke, AR
2
6
10
93
Caleb Smith Chatham, LA
Chatham, LA
4
7
6
27G
Cade Galey Stonewall, LA
Stonewall, LA
-1
8
2
67
Matt Owings Longview, TX
Longview, TX
-6
9
4
12S
David Smith Ruston, LA
Ruston, LA
-5
10
11
10PJ
JP Powers Gilmer, TX
Gilmer, TX
1
11
9
82
Bryan Grosjean Shreveport, LA
Shreveport, LA
-2
USRA Tuners
Finish
Start
#
Competitor
Hometown
+/-
1
1
22
Conner Cook Princeton, LA
Princeton, LA
-
2
7
C49
Justin Converse Texarkana, AR
Texarkana, AR
5
3
3
11X
Robert Sumrell Ashdown, AR
Ashdown, AR
-
4
5
10G
Bryan Guice Sibley, LA
Sibley, LA
1
5
2
925T
Zach Thorpe Arp, TX
Arp, TX
-3
6
13
1X
Clay Gardner STAMPS, AR
STAMPS, AR
7
7
4
77
Mark Wittig
-3
8
6
35
Jonathan Rodriguez Bossier City, LA
Bossier City, LA
-2
9
10
F5
Ben McDuff Keithville, LA
Keithville, LA
1
10
11
15
Michael Ward WINNSBORO, LA
WINNSBORO, LA
1
11
12
H95
Dee Harris Choudrant, LA
Choudrant, LA
1
12
15
1J
Jackson Mourad Haughton, LA
Haughton, LA
3
13
9
27
Ted Pfister Shreveport, LA
Shreveport, LA
-4
14 DNF
8
2
Maddison Gaddis Diana, TX
Diana, TX
-6
DNS
14
29B
Brandon Harrod Beckville, TX
Beckville, TX
-
Finish
Start
#
Competitor
Hometown
+/-
1
2
925T
Zach Thorpe Arp, TX
Arp, TX
1
2
4
11X
Robert Sumrell Ashdown, AR
Ashdown, AR
2
3
3
35
Jonathan Rodriguez Bossier City, LA
Bossier City, LA
-
4
7
10G
Bryan Guice Sibley, LA
Sibley, LA
3
5
1
F5
Ben McDuff Keithville, LA
Keithville, LA
-4
6
5
15
Michael Ward WINNSBORO, LA
WINNSBORO, LA
-1
7
8
1X
Clay Gardner STAMPS, AR
STAMPS, AR
1
8
6
1J
Jackson Mourad Haughton, LA
Haughton, LA
-2
Finish
Start
#
Competitor
Hometown
+/-
1
5
22
Conner Cook Princeton, LA
Princeton, LA
4
2
1
77
Mark Wittig
-1
3
3
C49
Justin Converse Texarkana, AR
Texarkana, AR
-
4
6
2
Maddison Gaddis Diana, TX
Diana, TX
2
5
7
27
Ted Pfister Shreveport, LA
Shreveport, LA
2
6
2
H95
Dee Harris Choudrant, LA
Choudrant, LA
-4
7
4
29B
Brandon Harrod Beckville, TX
Beckville, TX
-3
Sportsters
Finish
Start
#
Competitor
Hometown
+/-
1
4
E7
Chris Weatherford Longview, TX
Longview, TX
3
2
6
4A
Austin Warner Bossier City, LA
Bossier City, LA
4
3
1
XXX
Brittany Graham Shreveport, LA
Shreveport, LA
-2
4
3
194
John McCune Stonewall, LA
Stonewall, LA
-1
5
5
K8
Ed Cox Karnack, TX
Karnack, TX
-
6
2
40
Jeff Lewis Haughton, LA
Haughton, LA
-4
DNS
7
X
Shawn Graham Shreveport, LA
Shreveport, LA
-
Finish
Start
#
Competitor
Hometown
+/-
1
2
XXX
Brittany Graham Shreveport, LA
Shreveport, LA
1
2
4
40
Jeff Lewis Haughton, LA
Haughton, LA
2
3
3
E7
Chris Weatherford Longview, TX
Longview, TX
-
4
7
194
John McCune Stonewall, LA
Stonewall, LA
3
5
1
K8
Ed Cox Karnack, TX
Karnack, TX
-4
6
6
4A
Austin Warner Bossier City, LA
Bossier City, LA
-
DNS
5
X
Shawn Graham Shreveport, LA
Shreveport, LA
-
Pro-Mods
Finish
Start
#
Competitor
Hometown
+/-
1
1
L8
Chase Hatton De Berry, TX
De Berry, TX
-
2
2
515
Trent Humphrey Haughton, LA
Haughton, LA
-
3
3
87W
Julie Whitney Vivian, LA
Vivian, LA
-
4
9
B99
William Brooks Carthage, TX
Carthage, TX
5
5
4
*3
Robert Delude Shreveport, LA
Shreveport, LA
-1
6
5
22
Robert Graham Marshall, TX
Marshall, TX
-1
7
8
54T
Heath Thompson Shreveport, LA
Shreveport, LA
1
8
6
27
Mike Washburn Shreveport, LA
Shreveport, LA
-2
9
10
115
Robert Hickman Marshall, TX
Marshall, TX
1
10
19
12B
Buddy Baker
9
11
16
81
David Hatton Deberry, TX
Deberry, TX
5
12
7
316
Justin Cook Sterlington, LA
Sterlington, LA
-5
13
15
11E
Kevin Cooper Diana, TX
Diana, TX
2
14
11
84
Dakota Tutt Carthage, TX
Carthage, TX
-3
15
14
43J
BJ Cook Shreveport, LA
Shreveport, LA
-1
16
13
727
Dustin Randol Blanchard, LA
Blanchard, LA
-3
17
17
88
Dillon Buchanan Hallsville, TX
Hallsville, TX
-
18
12
T11
Jacob Twomey Carthage, TX
Carthage, TX
-6
DNS
18
33
Randy Darlin Marshall, TX
Marshall, TX
-
Finish
Start
#
Competitor
Hometown
+/-
1
3
515
Trent Humphrey Haughton, LA
Haughton, LA
2
2
2
87W
Julie Whitney Vivian, LA
Vivian, LA
-
3
5
22
Robert Graham Marshall, TX
Marshall, TX
2
4
7
316
Justin Cook Sterlington, LA
Sterlington, LA
3
5
4
84
Dakota Tutt Carthage, TX
Carthage, TX
-1
6
9
115
Robert Hickman Marshall, TX
Marshall, TX
3
7
8
727
Dustin Randol Blanchard, LA
Blanchard, LA
1
8
10
12B
Buddy Baker
2
9
1
88
Dillon Buchanan Hallsville, TX
Hallsville, TX
-8
10
6
33
Randy Darlin Marshall, TX
Marshall, TX
-4
Finish
Start
#
Competitor
Hometown
+/-
1
4
L8
Chase Hatton De Berry, TX
De Berry, TX
3
2
1
*3
Robert Delude Shreveport, LA
Shreveport, LA
-1
3
2
54T
Heath Thompson Shreveport, LA
Shreveport, LA
-1
4
8
27
Mike Washburn Shreveport, LA
Shreveport, LA
4
5
6
B99
William Brooks Carthage, TX
Carthage, TX
1
6
3
T11
Jacob Twomey Carthage, TX
Carthage, TX
-3
7
7
43J
BJ Cook Shreveport, LA
Shreveport, LA
-
8
5
11E
Kevin Cooper Diana, TX
Diana, TX
-3
9
9
81
David Hatton Deberry, TX
Deberry, TX
-